Episodes
Wednesday Oct 19, 2022
Wednesday Oct 19, 2022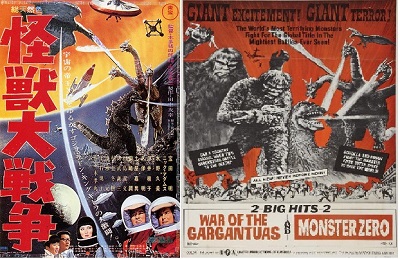 Hello, kaiju lovers! Godzilla Redux is in full gear with one of Big G's most quintessential films—and Jimmy From NASA's personal favorite, because reasons—Invasion of Astro-Monster (aka Monster Zero and Godzilla vs. Monster Zero). For this occasion, Nate is joined the Dapper Man himself, Kevin Joshua Burnham, who is a YouTuber, the co-host of The Bottom Shelf podcast, and a longtime fan of MIFV. Everyone's favorite angry Irishman dives deep into this film with Nate, discussing its making, its cast, and how it showcases the Japanese's very different sensibilities when it comes to alien invasion stories. Spoiler warning: the Xiliens aren't anti-American symbols.
Before the broadcast, Jimmy tells Nate he has something he needs to show in his garage after the show. Afterward, Jimmy shows him the "museum piece" Cameron Winter bribed gifted him with: a Xilien saucer. But the big secret is what—or rather, who—is inside.
Check out Kevin's YouTube channel (https://www.youtube.com/c/TheDapperMan) and The Bottom Shelf (https://geekdevotions.com/category/the-bottom-shelf/).
The prologue and epilogue, "Sleeping Seijin," was written by Nathan Marchand.
Guest Cast
Jimmy From NASA as himself
Kim Lacanilao as the Xilien woman
Additional music:
"Trouble Abrew" by Akira Ifukube
"King Ghidorah Theme" by AlyssaGojiGeek101 (https://youtu.be/hkc3UjBPUfs)
"Chant My Name!" by Masaaki Endo
"Planet X's Mystique" by Akira Ifukube
Sound effects sourced from Freesound.org, including those by InspectorJ.
This episode was edited by Roger Heathers and Nathan Marchand.
Check out Nathan's spinoff podcasts, The Henshin Men and The Power Trip.
We'd like to give a shout-out to our MIFV MAX patrons Travis Alexander; Danny DiManna (author/creator of the Godzilla Novelization Project); Eli Harris (elizilla13); Chris Cooke (host of One Cross Radio); Bex from Redeemed Otaku; Damon Noyes, The Cel Cast, TofuFury, Eric Anderson of Nerd Chapel, Ted Williams, Wynja the Ninja, and Brad "Batman" Eddleman! Thanks for your support!
You, too, can join MIFV MAX on Patreon to get this and other perks starting at only $3 a month! (https://www.patreon.com/monsterislandfilmvault)
Buy official MIFV merch on TeePublic! (https://www.teepublic.com/user/the-monster-island-gift-shop)
This episode is approved by Cameron Winter and the Monster Island Board of Directors.
Timestamps:
Prologue: 0:00-2:22
Intro: 2:22-15:14
Main Discussion: 15:14-1:20:41
Housekeeping & Outro: 1:20:41-1:32:24
Epilogue: 1:32:24-end
Podcast Social Media:
www.MonsterIslandFilmVault.com
#JimmyFromNASALives       #MonsterIslandFilmVault      #GodzillaRedux             #Godzilla
© 2022 Moonlighting Ninjas Media
Bibliography/Further Reading:
Barr, Jason. The Kaiju Film: A Critical Study of Cinema's Biggest Monsters.
Brothers, Peter H. Mushroom Clouds and Mushroom Men: The Fantastic Cinema of Ishiro Honda.
Commentary by Stuart Galbraith IV (Classic Media DVD).
Galbraith, Stuart IV. Japanese Science Fiction, Fantasy and Horror Films: A Critical Analysis and Filmography of 103 Features Released in the United States 1950-1992.
Kaijuvision Radio, Episode 11: Invasion of Astro-Monster (1965) (Alien Invasion and International Affairs) (https://youtu.be/W1Lu5zlN7rM)
Kalat, David. A Critical History and Filmography of Toho's Godzilla Series, 2nd
LeMay, John. The Big Book of Japanese Giant Monster Movies Volume 1: 1954-1982.
Ryfle, Steve, and Ed Godziszewski. Ishiro Honda: A Life in Film, from Godzilla to Kurosawa.