Episodes
Saturday Oct 08, 2022
Saturday Oct 08, 2022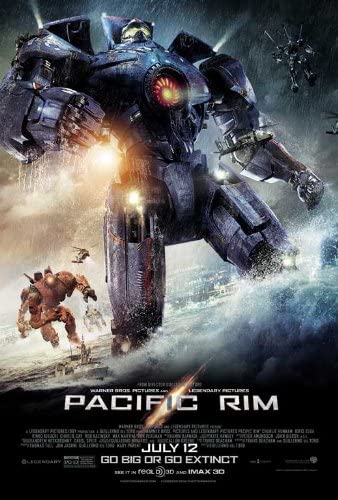 Hello, kaiju lovers! Nate has been waiting for this Ameri-kaiju episode for a long time—he gets to discuss one of his favorite films: Pacific Rim! He's joined by the three co-hosts of The Drift Space podcast—returning guests Jack "GMan" Hudgens and J.R. Viller, plus Jack's sister, Rebecca—to gush about how much they love it. Guillermo del Toro's masterful tribute to both tokusatsu and anime is a movie that is unabashedly itself with its archetypal but strong characters, incredible worldbuilding, and mind-blowing special effects. But beneath the beyond-cool chassis beats the heart of a grossly underestimated story of surprising depth. If you don't already love Pacific Rim, Nate and the Drifters will change your mind!
Beforehand, Nate discovers data files for an abandoned ad campaign for an unknown kaiju named "Chimera." After the broadcast, as you undoubtedly heard, a mysterious kaiju attacked the Island but was killed by the Drifters in their Jaeger, Bouncing Betty. Nate's live broadcast of that battle is included here.
The prologue and epilogue, "Chimera," was written by Nathan Marchand.
Additional music:
"Cradle of the Chozo" by prophetic music
"Pacific Rim" by Niall Stenson
"Chant My Name!" by Masaaki Endo
"Feel Sound – Cinematic Adventure" | Music promoted by MAGIC SOUND®
Sound effects sourced from Freesound.org, including those by InspectorJ.
Check out Nathan's spinoff podcasts, The Henshin Men and The Power Trip.
We'd like to give a shout-out to our MIFV MAX patrons Travis Alexander; Danny DiManna (author/creator of the Godzilla Novelization Project); Eli Harris (elizilla13); Chris Cooke (host of One Cross Radio); Bex from Redeemed Otaku; Damon Noyes, The Cel Cast, TofuFury, Eric Anderson of Nerd Chapel, Ted Williams, Wynja the Ninja, and Brad "Batman" Eddleman! Thanks for your support!
You, too, can join MIFV MAX on Patreon to get this and other perks starting at only $3 a month! (https://www.patreon.com/monsterislandfilmvault)
Buy official MIFV merch on TeePublic! (https://www.teepublic.com/user/the-monster-island-gift-shop)
This episode is approved by Cameron Winter and the Monster Island Board of Directors.
Timestamps:
Prologue: 0:00-4:15
Intro: 4:15-13:33
Entertaining Info Dump: 13:33-23:14
Toku Talk: 23:14-1:27:21
Promo: 1:27:21-1:28:37
Toku Topic: 1:28:37-2:05:59
Housekeeping & Outro: 2:05:59-2:21:41
Epilogue: 2:21:41-end
Podcast Social Media:
www.MonsterIslandFilmVault.com
#JimmyFromNASALives       #MonsterIslandFilmVault      #Amerikaiju             #PacificRim
© 2022 Moonlighting Ninjas Media
Bibliography/Further Reading:
Welsh, Jennifer. "How does cloning work?" Live Science, 17 Nov. 2021. (https://www.livescience.com/how-cloning-works)