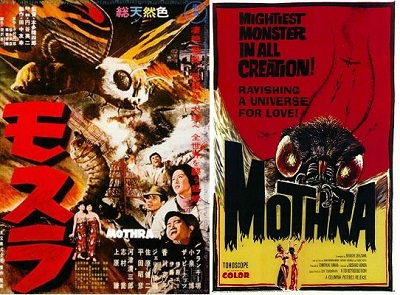 Hello, kaiju lovers! Our subseries "Godzilla Redux" continues with what some call Toho screenwriter Shinichi Sekizawa's masterpiece: Mothra (1961). Becky "Bex" Smith of the Redeemed Otaku podcast joins Nate to discuss this film—because apparently Nate can't talk about a Mothra film without her. While Bex seems weirdly obsesses over the genus names of insects, Nate regales her with kaiju-sized info bombs related to the making of the film, the historical backdrop against which it was made (controversial treaty renewals with the U.S.), and the often crazy interpretations academics and critics have of the film (blackface, anyone?). That's just some of what you'll learn about this kaiju classic!
Beforehand, Nate meets with his pseudo-sister, the semi-secret magical girl Jessica, who's just been promoted to director of tourism on the Island. They discuss her new job and awkwardly talk about her seeming crush on Legal Action Team paralegal, Gary. After the broadcast, though, Nate and company discover "Bex" isn't who she appears to be—and Crystal Lady has to get involved.
This episode's prologue and epilogue, "Bexy a Traitor?! The Church of Mothrianity Attacks!", was written by Nathan Marchand with Becky Smith and Daniel DiManna.
Guest stars:
Sarah Marchand as Jessica Shaw/Crystal Lady
Becky Smith as Peppermoth
Daniel DiManna as "Old Janitor"
Damon Noyes as Motte-Priester Herzog Jerry Nachtfalter
Hoshiko as Luna
Additional music:
"Mothra's Song" (from "Godzilla: King of the Monsters") by FalKKonE
Sound effects sourced from Freesound.org, including those by InspectorJ.
Check out Nathan's spinoff podcasts, The Henshin Men and The Power Trip.
We'd like to give a shout-out to our MIFV MAX patrons Travis Alexander and Michael Hamilton (co-hosts of Kaiju Weekly); Danny DiManna (author/creator of the Godzilla Novelization Project); Eli Harris (elizilla13); Chris Cooke (host of One Cross Radio); Bex from Redeemed Otaku; Damon Noyes, The Cel Cast, TofuFury, Eric Anderson of Nerd Chapel, and Ted Williams! Thanks for your support!
You, too, can join MIFV MAX on Patreon to get this and other perks starting at only $3 a month!
Buy official MIFV merch on TeePublic!
This episode is approved by Cameron Winter and the Monster Island Board of Directors.
Timestamps:
Prologue: 0:00-4:57
Intro: 4:57-11:31
Main Discussion: 11:31-1:34:57
Housekeeping & Outro: 1:34:57-1:46:01
Epilogue: 1:46:01-end
Podcast Social Media:
www.MonsterIslandFilmVault.com
#JimmyFromNASALives       #MonsterIslandFilmVault       #GodzillaRedux          #Mothra
© 2022 Moonlighting Ninjas Media
Bibliography/Further Reading:
Barr, Jason. The Kaiju Film: A Critical Study of Cinema's Biggest Monsters.
Commentary on Mothra by Steve Ryfle and Ed Godziszewski (Mill Creek blu-ray).
Galbraith, Stuart IV. Japanese Science Fiction, Fantasy and Horror Films: A Critical Analysis and Filmography of 103 Features Released in the United States 1950-1992.
Kalat, David. A Critical History and Filmography of Toho's Godzilla Series, 2nd
LeMay, John. The Big Book of Japanese Giant Monster Movies Volume 1: 1954-1982.
LeMay, John. The Big Book of Japanese Giant Monster Movies: The Lost Films (Mutated Edition).
LeMay, John. Writing Giant Monsters.
Ryfle, Steve, and Ed Godziszewski. Ishiro Honda: A Life in Film, from Godzilla to Kurosawa.
Rhodes, Sean, and Brooke McCorkle. "Chapter 4: "Mothra, Marx, Mother Nature." Japan's Green Monsters: Environmental Commentary in Kaiju Cinema.