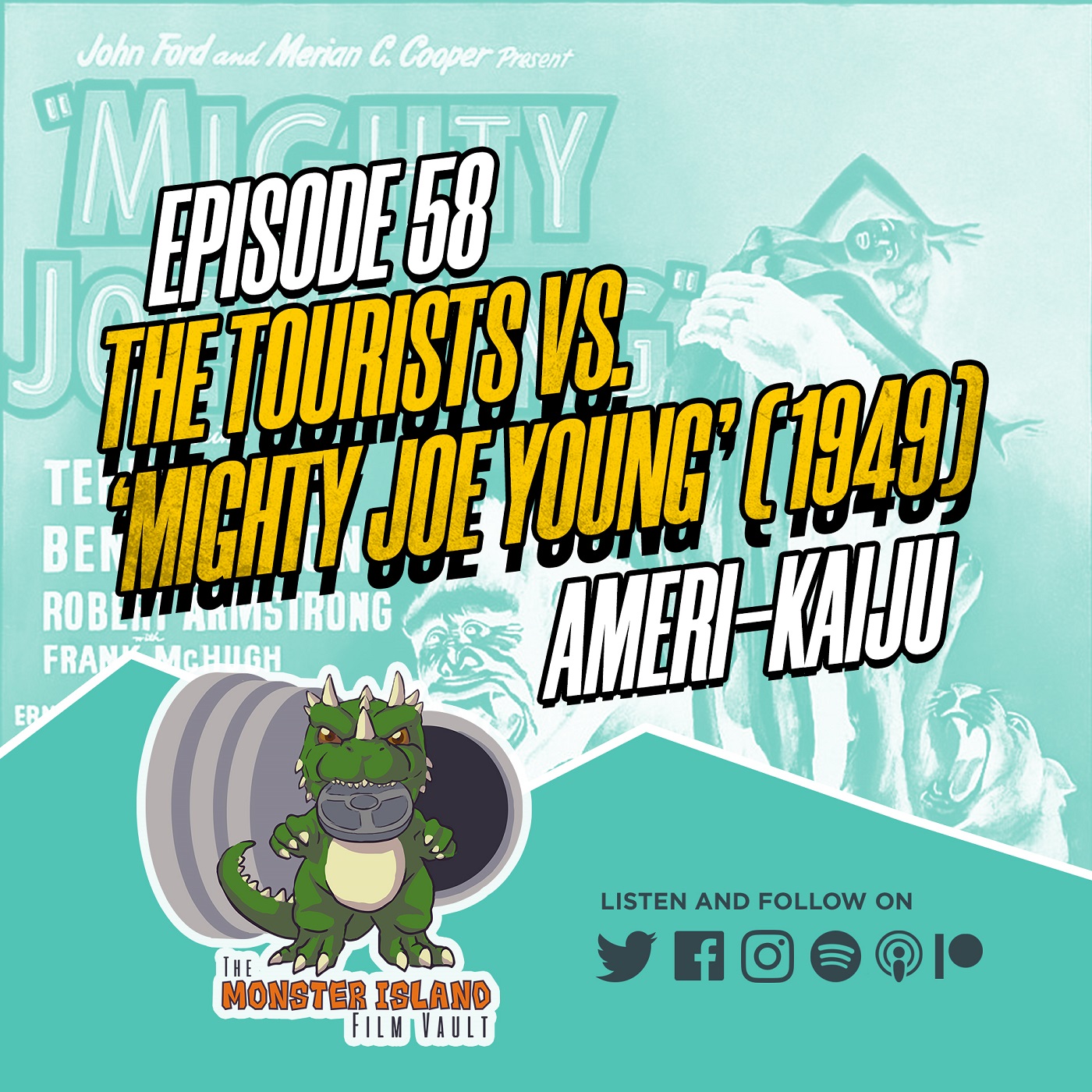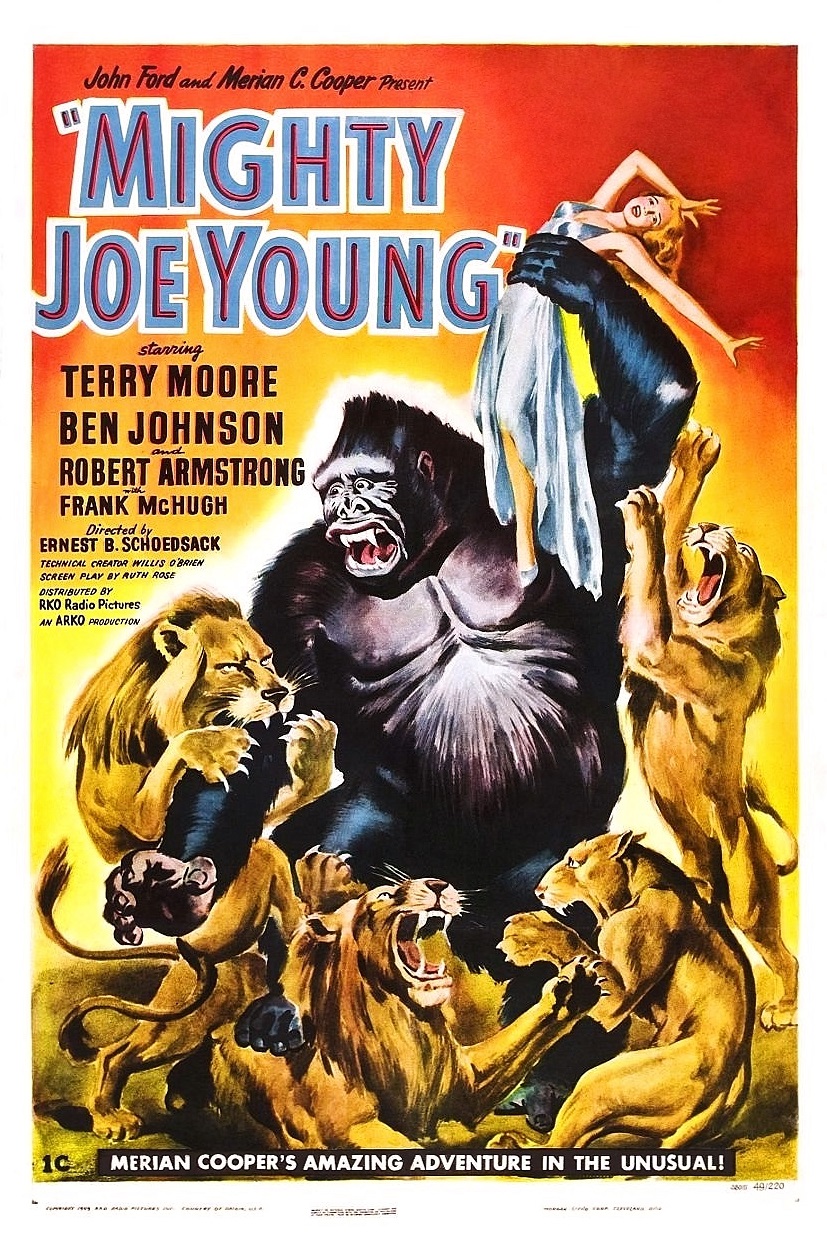 Hello, kaiju lovers! "Ameri-kaiju" continues with three of the original MIFV Tourists—Nick Hayden, Joe Metter, and Joy Metter—returning to the Island to the "spiritual sequel" to King Kong (1933): Mighty Joe Young (1949). This classic features the special effects masters of the generations: Willis O'Brien and Ray Harryhausen. As usual, Nate did way too much research, but its almost overshadowed by the BURNING OPRHANS(!). Nate's guests were blindsided by this film's climax; so much so, they start the discussion with that and move backwards through the movie, Memento-style. The Toku Topic is gorillas in captivity since Mighty Joe himself was a captive gorilla.
Before the broadcast, Nate speaks with Jessica about her new job as director of tourism on his way to meet with the Island's new PR director, Darius R. Gold, a big game hunter from Texas. Amidst a metric ton of bravado, Mr. Gold tells Nate to contact Teri Young, the current caretaker for Mighty Joe Young. After the broadcast, Nate finally gets a reply from her—and a suspicious revelation about Cameron Winter.
This episode's prologue, "Gold and Gorillas," was written by Nathan Marchand with Michael Hamilton and Daniel DiManna.
Guest stars:
Sarah Marchand as Jessica Shaw
Michael Hamilton as Darius R. Gold
Kim Hogue as Teri Young
Additional music:
"New Mexican Thunderbird" by Vurez
"Pacific Rim" by Niall Stenson
"Son of Chaos" by Xaleph
Sound effects sourced from Freesound.org.
Check out Nathan's spinoff podcasts, The Henshin Men and The Power Trip.
We'd like to give a shout-out to our MIFV MAX patrons Travis Alexander and Michael Hamilton (co-hosts of Kaiju Weekly); Danny DiManna (author/creator of the Godzilla Novelization Project); Eli Harris (elizilla13); Chris Cooke (host of One Cross Radio); Bex from Redeemed Otaku; Damon Noyes, The Cel Cast, TofuFury, Eric Anderson of Nerd Chapel, and Ted Williams! Thanks for your support!
You, too, can join MIFV MAX on Patreon to get this and other perks starting at only $3 a month!
Buy official MIFV merch on TeePublic!
This episode is approved by Cameron Winter and the Monster Island Board of Directors.
Timestamps:
Prologue: 0:00-8:16
Intro: 8:16-15:04
Entertaining Info Dump: 15:04-22:07
Toku Talk: 22:07-1:39:34
Promo: 1:39:34-1:40:52
Toku Topic: 1:40:52-1:58:38
Housekeeping & Outro: 1:58:38-2:12:30
Epilogue: 2:12:30-end
Podcast Social Media:
www.MonsterIslandFilmVault.com
#JimmyFromNASALives       #MonsterIslandFilmVault       #Amerikaiju
© 2022 Moonlighting Ninjas Media
Bibliography/Further Reading:
Angier, Natalie. "Do Gorillas Even Belong in Zoos? Harambe's Death Spurs Debate." The New York Times.
Commentary on Mighty Joe Young (1949) by Terry Moore, Ray Harryhausen, and Ken Ralston. (Warner Bros. blu-ray).
Harryhausen, Ray, and Tony Dalton. Ray Harryhauden: An Animated Life. Billboard Books.
LeMay, John. Kong Unmade: The Lost Films of Skull Island (2nd Editions). Bicep Books.
Mighty Joe Young blu-ray special features. (Warner Bros.)
Morton, Ray. King Kong: The History of a Movie Icon, from Fay Wray to Peter Jackson. Applause Theater & Cinema Books.
Ray Harryhausen Podcast, The - Episode 24: Mighty Joe Young, 70th Anniversary Special.
Wiki Articles on Mighty Joe Young (1949):