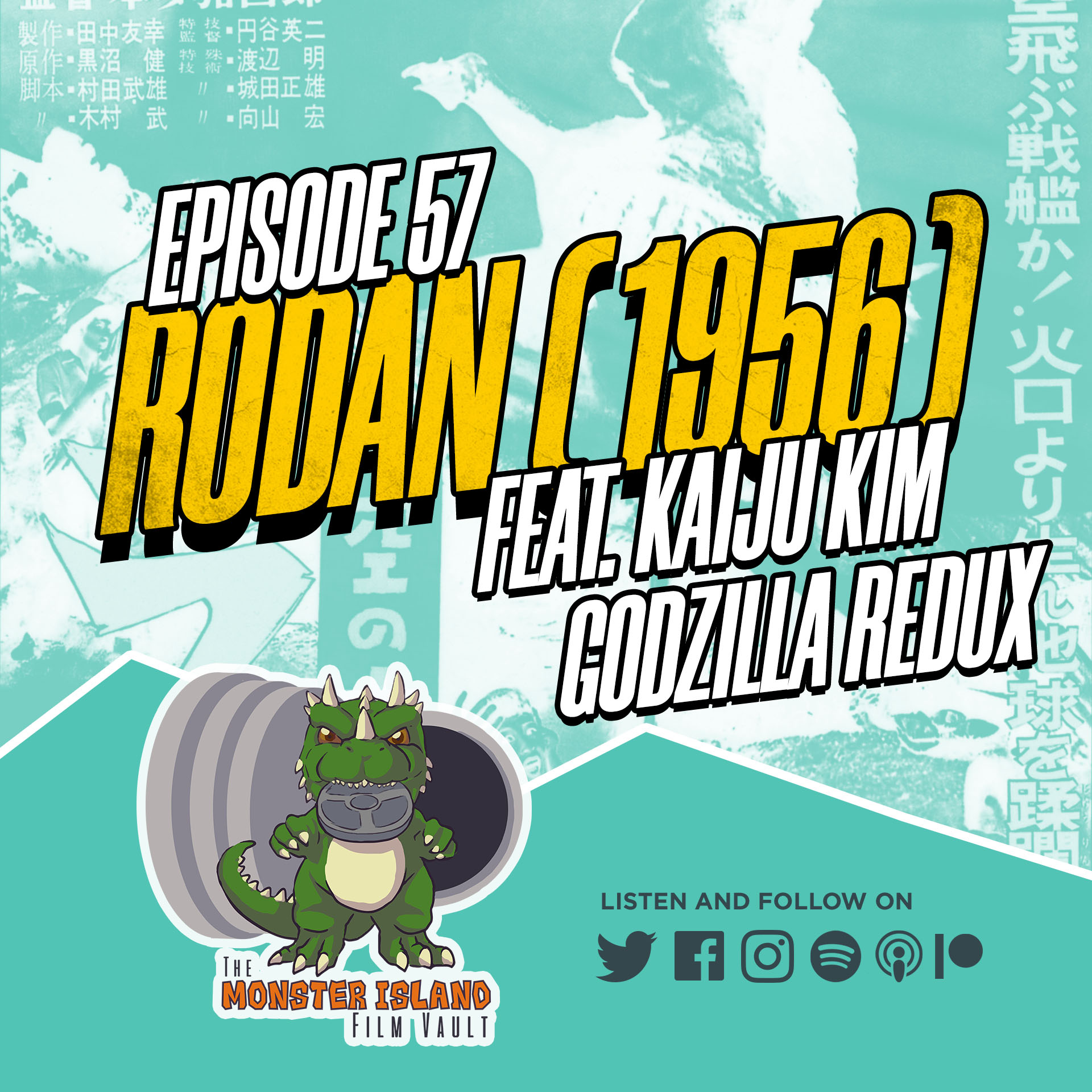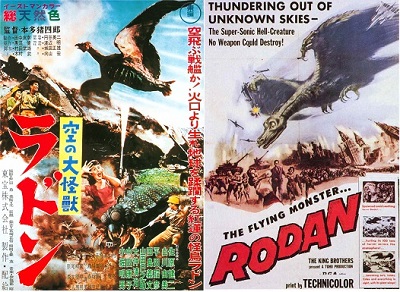 Hello, kaiju lovers! YouTuber and aspiring filmmaker Kaiju Kim returns to Monster Island to discuss a nostalgic monster movie for her: Toho's first kaiju movie in color, Rodan (1956). It may not have Big G in it, but Rodan debuted in this film and later became a staple of Toho's flagship franchise. Amidst funny accents, cancelations (sorry not sorry, Jimmy), and talk of Meganula breakfast cereal, Kim and Nate discuss the film's Japanese communist screenwriter, Takeshi Kimura, the infamous Mantell UFO incident that inspired the film, and the symbolism of the monsters. If ever there was an episode that exemplified our mantra, "Entertainment and enlightenment through tokusatsu," it's this one.
Before the broadcast, Nate visits the Monster Island Legal Action Team office to collect his new contract, and after getting an update from Gary, Raymund Martin bursts in and claims he was a Goranger back in the day. Let's just say there isn't enough salt in the ocean for Nate to take with Raymund's story.
This episode's prologue, "Go, Go, Goranger!" was written by Nathan Marchand with Damon Noyes.
Check out Kaiju Kim's YouTube channel, including her Rodan review.
Read Jimmy's Notes on this episode.
Guest stars:
Damon Noyes as Gary Steward and Raymund Martin
Additional music:
Sound effects sourced from Freesound.org.
Check out Nathan's spinoff podcasts, The Henshin Men and The Power Trip.
We'd like to give a shout-out to our MIFV MAX patrons Travis Alexander and Michael Hamilton (co-hosts of Kaiju Weekly); Danny DiManna (author/creator of the Godzilla Novelization Project); Eli Harris (elizilla13); Chris Cooke (host of One Cross Radio); Bex from Redeemed Otaku; Damon Noyes, The Cel Cast, TofuFury, Eric Anderson of Nerd Chapel, and Ted Williams! Thanks for your support!
You, too, can join MIFV MAX on Patreon to get this and other perks starting at only $3 a month!
Buy official MIFV merch on TeePublic!
This episode is approved by Cameron Winter and the Monster Island Board of Directors.
Timestamps:
Prologue: 0:00-5:22
Intro: 5:22-12:00
Main Discussion: 12:00-1:17:08
Housekeeping & Outro: 1:17:08-end
Podcast Social Media:
www.MonsterIslandFilmVault.com
#JimmyFromNASALives       #MonsterIslandFilmVault       #GodzillaRedux
© 2022 Moonlighting Ninjas Media
Bibliography/Further Reading:
Brothers, Peter H. Mushroom Clouds and Mushroom Men: The Fantastic Cinema of Ishiro Honda.
Galbraith, Stuart IV. Japanese Science Fiction, Fantasy and Horror Films: A Critical Analysis and Filmography of 103 Features Released in the United States 1950-1992.
Kaijuvision Radio, Episode 6: Rodan (1956) (Japan during the Korean War, Japan and the United Nations)
Kalat, David. A Critical History and Filmography of Toho's Godzilla Series, 2nd
LeMay, John. The Big Book of Japanese Giant Monster Movies Volume 1: 1954-1982.
Ryfle, Steve, and Ed Godziszewski. Ishiro Honda: A Life in Film, from Godzilla to Kurosawa.
Wiki Articles about Rodan: